SL A35
AB Storstockholms Lokaltrafik class A35 no 451-465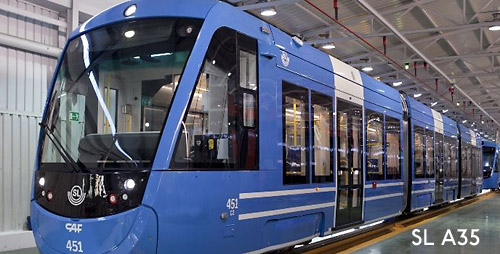 data for the class A35
Vehicle:
motor car
Class:
8-axled articulated double-ended partially low-floor (8xGelER NfT)
Company:
AB Storstockholms Lokaltrafik (SL)
Town:
Stockholm
Line:
Tvärbanan
Class:
A35
Car number:
451-465
Built number:
15
Manufacturer:
CAF 2013-2014
Gauage (mm):
1435
Length (mm):
30800
Width (mm):
2650
Height (mm):
3633
Weight (kg):
51000
Axel arrangement:
Bo'Bo'Bo'Bo'
Wheelbase (mm):
Boggie center base (mm):
9600
Wheel diameter (mm):
630/550
Wheel tread width (mm):
Type of motor:
ABB 4RBA2744
Motor power (kW):
8x70
Type of controller:
Type of coupling:
Compressor:
Operating current:
750 DC
Max speed (km/h):
90
Door arrangement:
Number of passengers:
72 seating + 143 standing = 215 passengers
Out of service:
Note:
The history of the class (only in Swedish):
Första leveransen var på 15 vagnar, därutöver har 7 vagnar leveretats som A36 (10 m längre) för Lidingöbanan. Det finns en kvarvarande option på 99 vagnar. Totalt omfattade beställningen till CAF 121 vagnar.