ML S2 201
Malmö Lokaltrafik class S2 no 201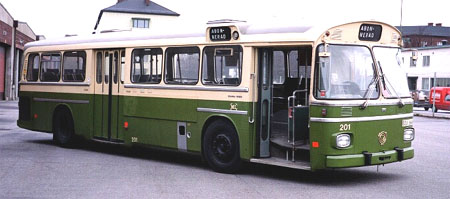 © PG Andersson
data for road vehicle S2 201
Vehicle:
diesel bus
Manufacturer:
Scania-Vabis 1966
Staffing:
enmansbetjänad
Length (mm):
11450
Width (mm):
2500
Height (mm):
2920
Weight (kg):
8930
Wheelbase (mm):
5900
Tyre dimension:
front: , rear:
Type of motor:
Scania-Vabis D11 R23
Motor power:
190 hk
Gearbox:
ZF 2 HP45
Chassis:
Scania-Vabis CR7659L9B
Chassis number:
540386
Coach:
Registration number:
EOJ 641
First reg.number:
M 1485
First reg.date:
1966-12-30
Max speed (km/h):
Door arrangement:
H 2-002-0
Number of passengers:
seating: 32, standing: 48
Colour:
grön/créme
Last renevation:
1987
Operation category:
I (ready for operating use)
Preservation category:
Owner:
SSS-Malmö
Housed:
Malmö
Museum year:
1991
Note:
The history of the road vehicle:
Regnr 1967-1973: MB16201

Bussen levererad till MSS 1966 som den första högertrafikbussen. I trafik 1967 - 1986 varefter den renoveardes till ursprungligt utseende på ML verkstad till 100 års- jubileet 1987. Bussen skänktes till Svenska Spårvägssällskapets Malmöavdelning i april 1991. Bussen är sedan 1993 klassad som museibuss i SSS samlingar.

Donerad till SSS Malmöavdelning 1991 04 16 av Malmö Lokaltrafik.

Dispens för körning i miljözon till 2001-12-31.