SL H35 4505
AB Storstockholms Lokaltrafik class H35 no 4505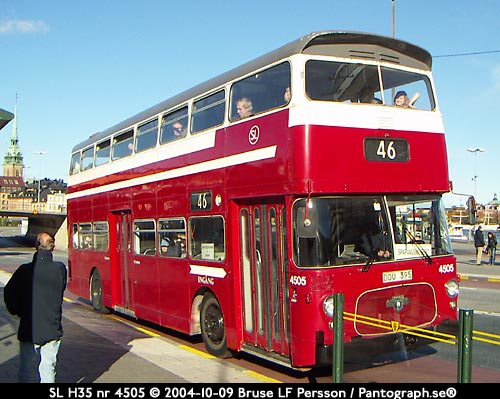 © Bruse LF Persson
data for road vehicle H35 4505
Vehicle:
diesel bus, tvåvåning
Manufacturer:
Leyland, Park Royal 1967
Staffing:
enmansbetjänad
Length (mm):
11100
Width (mm):
2500
Height (mm):
4277
Weight (kg):
10530
Wheelbase (mm):
56400
Tyre dimension:
front: 10.00 x 20, rear: 10.00 x 20
Type of motor:
Leyland 0.680
Motor power:
121 hk
Gearbox:
Voith DIWA 502-3
Chassis:
Leyland Atlantean PDR 1/1
Chassis number:
700844
Coach:
Park Royal
Registration number:
DDU 395
First reg.number:
A 74505
First reg.date:
1967-01-01
Max speed (km/h):
65
Door arrangement:
H 2-002-0
Number of passengers:
seating: 71, standing: 8
Colour:
oxblodsröd/vit, grått tak
Last renevation:
nu motor, ommålad 1999
Operation category:
I (ready for operating use)
Preservation category:
Owner:
SSS
Housed:
Mälardalen
Museum year:
?
Note:
The history of the road vehicle:
43 sittande på övervåningen

Sammanfattning av historik (reservation för felaktiga tidsangivelser)
Såld till Vänersborgs Linjetrafik från AB Storstockholms Lokaltrafik. Använd för s.k. älgsafari. Avställd på 1990-talet?
Köpt av Strömma Turism & Sjöfart 1998/99 och använd på sightseeinglinje Gamla Stan-Djurgården en säsong.
Motorn bytt 1999.
Målad utvändigt 1999.
Avställd 2001-2004.
Köpt av AB Stockholms Spårvägar i maj 2004, överförd till Svenska Spårvägssällskapets samlingar sommaren 2004.
Stationerad i Uppsala/Stockholm.

En av samtliga tre kvarvarande tvåvåningsbussar av typ Leyland Atlantean, nr 4505, 4525 och 4545. Nr 4525 ägs av Stockholms Spårvägsmuseum.