SSS 1341
Svenska Spårvägssällskapet no 1341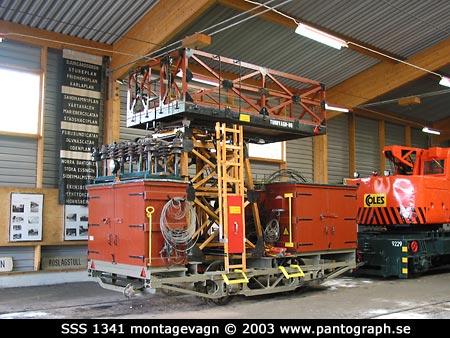 © Bruse LF Persson
data for rail vehicle 1341
Vehicle:
work car, line car
Class:
2-axled double-ended (2xZR)
Manufacturer:
MSS 1979
Colour:
grå/fernissat trä/rödbruna skåp
Last renevation:
1991-05-01
Operation category:
I (ready for operating use)
Preservation category:
3
Owner:
SSS
Housed:
Malmköping
Museum year:
1974


data for the class (av)
Vehicle:
work car, line car
Class:
2-axled double-ended (2xZR)
Company:
Svenska Spårvägssällskapet (SSS)
Town:
Malmö
Class:
(av)
Car number:
1341
Built number:
1
Manufacturer:
MSS
Gauage (mm):
1435
Length (mm):
5500
Width (mm):
2385
Height (mm):
4124
Weight (kg):
4000
Axel arrangement:
Wheelbase (mm):
Boggie center base (mm):
Wheel diameter (mm):
Wheel tread width (mm):
78
Type of motor:
Motor power (kW):
Type of controller:
Type of coupling:
albert
Compressor:
Operating current:
Max speed (km/h):
Door arrangement:
Number of passengers:
Out of service:
Note:
The history of the rail vehicle (only in Swedish):
Donerad till SSS 1974-04-05 av Malmö Lokaltrafik som svetsvagn, byggd på truck från MSS motorvagn 14.
Transporterad till Malmköping per trailer 1974-10-05--06.
Storrevision och ombyggnad till montagevagn påbörjad december 1979, avslutad 1991.
Montagetornet kommer från montagebilen MSS 20.
The history of the class (only in Swedish):
Höjd: 4124 mm över torn


More about the class
SSS (av)