SSS 1342
Svenska Spårvägssällskapet no 1342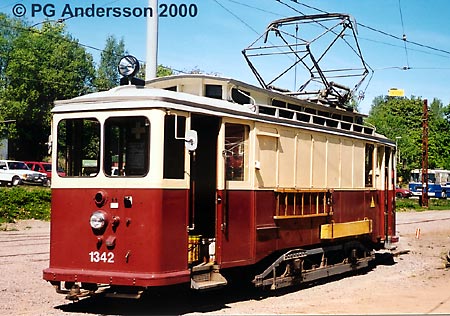 © PG Andersson
data for rail vehicle 1342
Vehicle:
work vehicles, redskapsmotorvagn
Class:
(2xZR)
Manufacturer:
ASEA 1908
Colour:
brun/créme
Last renevation:
Truckrevision 1956-12-29, 1/4-rev. Målad 1987
Rebuilt:
1932. Ombyggd till redskapsvagn 1959 av MSS, 1987 av SAMH
Owner:
SSS
Housed:
Malmköping
Museum year:
1974
Note:
fd Malmö MSS litt EF, korg litt A nr 42 och truck fd litt E nr 14
Operation category:
I (ready for operating use)
Preservation category:
3 (duplicates and non-museum vehicles)
Deposited with the:
Status:
traffic carriage


data for the class EF
Vehicle:
motor car
Class:
2-axled double-ended (2xZR)
Company:
Malmö Stads Spårvägar (MSS)
Town:
Malmö
Class:
EF
Car number:
1-47
Built number:
47
Manufacturer:
ASEA, MSS 1907 (1928)
Gauage (mm):
1435
Length (mm):
11100
Width (mm):
2100
Height (mm):
3240
Weight (kg):
13000
Axel arrangement:
Bo
Wheelbase (mm):
2700
Boggie center base (mm):
Wheel diameter (mm):
810
Wheel tread width (mm):
95
Type of motor:
ASEA LJ 28
Motor power (kW):
2x37
Type of controller:
Siemens-Schuckert OF 115, kamvals
Type of coupling:
albert
Compressor:
Operating current:
Max speed (km/h):
Door arrangement:
V 1-000-2, H 2-000-1
Number of passengers:
22 seating + 36 standing = 58 passengers
Out of service:
Note:
fd A och F
The history of the rail vehicle (only in Swedish):
Donerad till SSS 1974 04 05 av Malmö Lokaltrafik som redskapsmotorvagn MSS nr 103. Tidigare litt EF nr 14, korg f.d. litt A nr 42 och truck f.d. litt E nr 14.
Transporterad till Malmköping 1974 10 05 06 per trailer.
Revision och ombyggnad till redskapsmotorvagn påbörjad 1978, avslutad 1987.
Besiktigad och godkänd av Vägverket 1979 07 13.
The history of the class (only in Swedish):


Vagn 12 är musealt bevarade och består av korgen från fd F-vagn 20 och trucken från fd E-vagn 15. Vagnen heter idag 20 och trafikerar Museispårvägen i Malmö dock med trucken från E-vagn nummer 3. Denna truck satt tidigare under vagn EF 13 som numera är i Malmköping men med truck nummer 15.


More about the class
MSS EF