HSS 311
Helsingborgs Stads Spårvägar no 311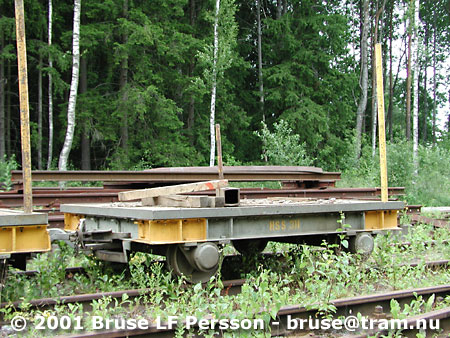 © Bruse LF Persson
data for rail vehicle 311
Vehicle:
rail transport wagon
Class:
(2xZR)
Manufacturer:
HSS 1952
Colour:
grå
Last renevation:
1985-07-01
Rebuilt:
Owner:
SSS
Housed:
Malmköping
Museum year:
1968
Note:
Till vagnen hör 1 st svängel, 4 långa och 2 korta stolpar
Operation category:
I (ready for operating use)
Preservation category:
2 (other museum vehicles)
Deposited with the:


data for the class (av)
Vehicle:
rail transport wagon
Class:
2-axled double-ended (2xZR)
Company:
Helsingborgs Stads Spårvägar (HSS)
Town:
Helsingborg
Class:
(av)
Car number:
310-312
Built number:
3
Manufacturer:
HSS 1952
Gauage (mm):
1435
Length (mm):
3030
Width (mm):
1830
Height (mm):
520
Weight (kg):
1000
Axel arrangement:
2
Wheelbase (mm):
Boggie center base (mm):
Wheel diameter (mm):
Wheel tread width (mm):
90
Type of motor:
Motor power (kW):
Type of controller:
Type of coupling:
albert
Compressor:
Operating current:
Max speed (km/h):
Door arrangement:
Number of passengers:
Out of service:
Note:
The history of the rail vehicle (only in Swedish):
Donerad till SSS 1968-05-08 av Hälsingborgs Stads Spårvägar.
Transporterad till Malmköping per järnväg 1968-05-08.
Storrevision påbörjad september 1984, avslutad juli 1985.

More about the class
HSS (av)