SS C5 839
AB Stockholms Spårvägar class C5 no 839
"surrogatvagn"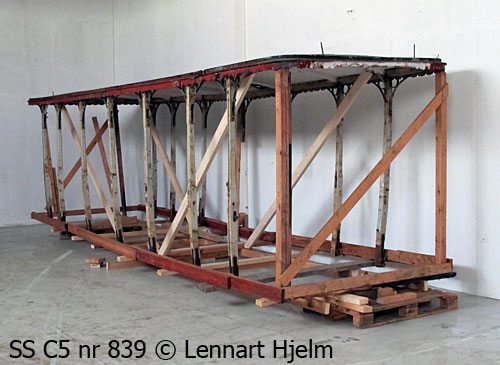 © Lennart Hjelm
data for rail vehicle 839
Vehicle:
horse tram, öppen "surrogatvagn"
Class:
Manufacturer:
SNS 1901
Colour:
Last renevation:
Owner:
SSS
Housed:
Malmköping
Museum year:


data for the class C5 "surrogatvagn"
Vehicle:
trailer car
Class:
Company:
AB Stockholms Spårvägar (SS)
Town:
Stockholm
Class:
C5 "surrogatvagn"
Car number:
838-839
Built number:
2
Manufacturer:
SNS 1901
Gauage (mm):
1435
Length (mm):
7500
Width (mm):
2200
Height (mm):
2800
Weight (kg):
3600
Axel arrangement:
2
Wheelbase (mm):
1980
Boggie center base (mm):
Wheel diameter (mm):
830
Wheel tread width (mm):
Type of motor:
Motor power (kW):
Type of controller:
Type of coupling:
Compressor:
Operating current:
Max speed (km/h):
Door arrangement:
Number of passengers:
24 seating + 11 standing = 35 passengers
Out of service:
Note:
fd SNS C3
The history of the rail vehicle (only in Swedish):
Vagnen är troligen den sist byggda hästspårvagnen.

Blev troligen sommarstuga på 1930-talet. Spårvägsmuseet tog öve runt 2000. I SSS ägor 2011-05-11.
The history of the class (only in Swedish):
Tidigare SNS C3 nr 369-370, ursprungligen öppna hästspårvagnar, provisoriskt inbyggda av Råsunda 1921 pga vagnsbrist.
Smeknamn "surrogatvagnar".


More about the class
SS C5 "surrogatvagn"