SL B30 604
AB Storstockholms Lokaltrafik class B30 no 604
"ängbyvagn"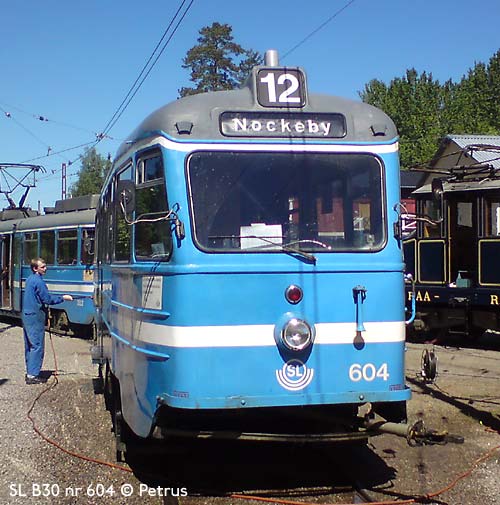 © Petrus Sarmento
data for rail vehicle 604
Vehicle:
control car "ängbyvagn"
Class:
4-axled double-ended (4xZR)
Manufacturer:
Hammarby 1983-1988
Colour:
järvablå
Last renevation:
Rebuilt:
Hammarby 1983-1988
Owner:
SSS
Housed:
Malmköping
Museum year:
2009
Note:
SL B30 604 är fd SS B24 635
Operation category:
I (ready for operating use)
Deposited with the:


data for the class B30 "ängbyvagn"
Vehicle:
control car
Class:
4-axled double-ended (4xZR)
Company:
AB Storstockholms Lokaltrafik (SL)
Town:
Stockholm
Line:
Nockebybanan
Class:
B30 "ängbyvagn"
Car number:
601-607
Built number:
7
Manufacturer:
Hammarby 1983-1988
Gauage (mm):
1435
Length (mm):
15150
Width (mm):
2400
Height (mm):
3750
Weight (kg):
15600
Axel arrangement:
2'2'
Wheelbase (mm):
1850+5600
Boggie center base (mm):
7400
Wheel diameter (mm):
700
Wheel tread width (mm):
Type of motor:
Motor power (kW):
Type of controller:
Type of coupling:
Compressor:
Operating current:
700 V DC
Max speed (km/h):
50
Door arrangement:
Number of passengers:
52 seating + 48 standing = 100 passengers
Out of service:
Note:
fd B24 och B24(A), Nockebybanan
The history of the class (only in Swedish):


Vagn nr 605, överförd till Aga, tidigare B30 och B30A. Saknar ATC och får ej gå som ledarvagn. Saknar också AC i förarhytten och har alltså ett något annorlunda utseende.


Fact sheet class SL B30

More about the class
SL B30 "ängbyvagn"