SSS 1340
Svenska Spårvägssällskapet no 1340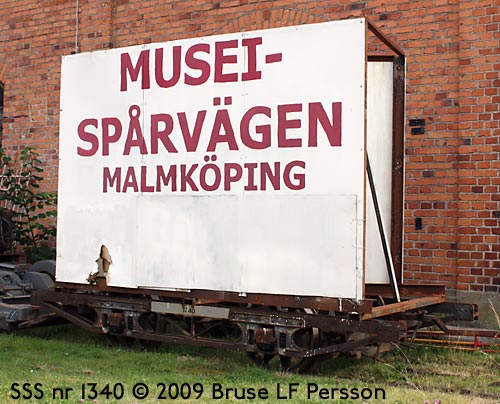 © Bruse LF Persson
data for rail vehicle 1340
Vehicle:
work car, skyltvagn
Class:
2-axled double-ended (2xZR)
Manufacturer:
ASEA
Colour:
grå
Last renevation:
Preservation category:
You must log in to see this field.
Owner:
SSS
Housed:
Malmköping
Museum year:
1971
Note:
truck ASEA-typ


data for the class (av)
Vehicle:
work car, skyltvagn
Class:
2-axled double-ended (2xZR)
Company:
Svenska Spårvägssällskapet (SSS)
Town:
Lidingö
Class:
(av)
Car number:
1340
Built number:
Manufacturer:
ASEA
Gauage (mm):
1435
Length (mm):
4780
Width (mm):
2050
Height (mm):
815
Weight (kg):
Axel arrangement:
Wheelbase (mm):
Boggie center base (mm):
Wheel diameter (mm):
Wheel tread width (mm):
120
Type of motor:
Motor power (kW):
Type of controller:
Type of coupling:
albert
Compressor:
Operating current:
Max speed (km/h):
Door arrangement:
Number of passengers:
Out of service:
Note:
The history of the rail vehicle (only in Swedish):
Donerad till SSS 1971 06 08 av Lidingö Trafik AB som öppen godsvagn med lämmar. Byggd, på ASEA-truck, av LiB på 1920-talet. Saknade inventarie-nummer.
Transporterad till Malmköping 1971-06-09.
Utrustad med Albertkoppel i stället för enkammarbuffert februari 1972.
Godsvagnspåbyggnaden borttagen 1988-09-18.
Ram för reklamskyltar för Museispårvägen uppsatta sommaren 1998.
Avsedd att placeras i Hosjö som reklam för Museispårvägen.

More about the class
SSS (av)