OS 121
AS Oslo Sporveier no 121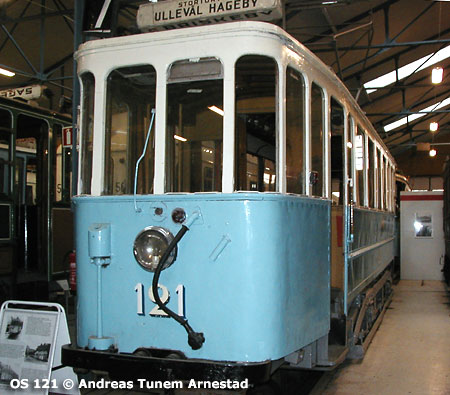 © Andreas Tunem Arnestad
data for rail vehicle 121
Vehicle:
motor car
Class:
Manufacturer:
KSS, Busch, Siemens 1922
Colour:
blå, vit
Last renevation:
Rebuilt:
Owner:
LTF
Housed:
Vognhall 5
Museum year:
1967
Note:
Opprinnelig nr 505. Ombyggd med andre vinduer 1945 i Köln. Bevart som ved utrangeringne i 1967.
Deposited with the:


data for the class (mv)
Vehicle:
motor car
Class:
Company:
AS Oslo Sporveier (OS)
Town:
Oslo
Class:
(mv)
Car number:
121-137
Built number:
17
Manufacturer:
Bush, KSS, Siemens 1899, 1921-1923
Gauage (mm):
1435
Length (mm):
11200
Width (mm):
2000
Height (mm):
Weight (kg):
16000
Axel arrangement:
Bo
Wheelbase (mm):
3200
Boggie center base (mm):
Wheel diameter (mm):
Wheel tread width (mm):
Type of motor:
Motor power (kW):
102
Type of controller:
Type of coupling:
Compressor:
Operating current:
600 V DC
Max speed (km/h):
40
Door arrangement:
Number of passengers:
24 seating + 44 standing = 68 passengers
Out of service:
1966-1967
Note:
Opprinnelig nr 505-521
The history of the rail vehicle (only in Swedish):
I Tyskland 1944-1946.
The history of the class (only in Swedish):
Bygd av KSS verksted Homansby ved en gjennomgripende ombygging av vogner levert av Busch 1899. I realiteten nybygg dog med en viss gjennbruk av game vognkasser. Omtales ofte som "kommunal" HaWa.

Vogn 121 bevart av LTF.


More about the class
OS (mv)