HKL RM1 339
Helsingin Kaupupungin Liikennelaitos class RM1 no 339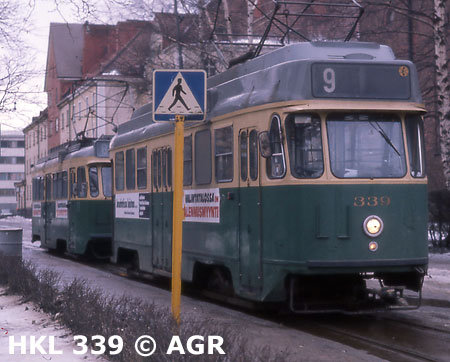 © Anders G Rehnström
data for rail vehicle 339
Vehicle:
motor car
Class:
Manufacturer:
Valmet, Tampella, Strömberg 1955-1956
Colour:
Last renevation:
Owner:
Helsingfors stadsmuseum
Housed:
Vallila
Museum year:


data for the class RM1
Vehicle:
motor car
Class:
Company:
Helsingin Kaupupungin Liikennelaitos (HKL)
Town:
Helsingfors
Class:
RM1
Car number:
331-375
Built number:
45
Manufacturer:
Valmet, Tampella, Strömberg 1955-1956
Gauage (mm):
1000
Length (mm):
Width (mm):
Height (mm):
Weight (kg):
Axel arrangement:
Bo'Bo'
Wheelbase (mm):
Boggie center base (mm):
Wheel diameter (mm):
Wheel tread width (mm):
Type of motor:
Motor power (kW):
Type of controller:
Type of coupling:
Compressor:
Operating current:
600 V DC
Max speed (km/h):
Door arrangement:
Number of passengers:
Out of service:
1987
Note:
RM = raitiomoottorivaunu (spårvägsmotorvagn), användes av Valmet
The history of the rail vehicle (only in Swedish):
Veteranvagn 339 skickades till Tallinn 5 mars 2002 för att få korgen grundrenoverad. Den blev renoverad på TTTK:s verstad, så att man blästrade hela korgen och lagades enligt anvisingar från HST. Den 25 juli 2003 återvände vagnen till Helsingfors för att senare få under sig de grundligt renoverade boggierna och vissa slutarbeten.

Används av Oy Stadin Ratikat Ab för abonnemang.

More about the class
HKL RM1