OS A 393
AS Oslo Sporveier class A no 393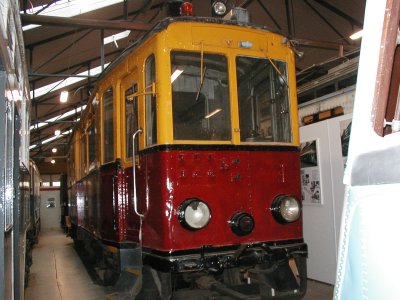 © Andreas Tunem Arnestad
data for rail vehicle 393
Vehicle:
work car
Class:
4-axled double-ended (4xZR)
Manufacturer:
van der Zypen & Charlier, Siemens 1924
Colour:
gul, röd
Last renevation:
Owner:
LTF
Housed:
Vognhall 5
Museum year:
1994


data for the class A
Vehicle:
motor car
Class:
4-axled double-ended (4xZR)
Company:
AS Bærumsbanen (BB)
Town:
Oslo
Line:
Bærumsbanen
Class:
A
Car number:
1-12
Built number:
12
Manufacturer:
van der Zypen, Charlier, SSW 1924
Gauage (mm):
1435
Length (mm):
12000
Width (mm):
2000
Height (mm):
Weight (kg):
26000
Axel arrangement:
Bo'Bo'
Wheelbase (mm):
Boggie center base (mm):
5500
Wheel diameter (mm):
870
Wheel tread width (mm):
Type of motor:
Motor power (kW):
4x55
Type of controller:
Type of coupling:
Compressor:
Operating current:
600 V DC
Max speed (km/h):
Door arrangement:
40
Number of passengers:
28 seating + 30 standing = 58 passengers
Out of service:
1940-1957
Note:
Bærumsbanen
The history of the rail vehicle (only in Swedish):
Trafikkvogn som BB nr. 3 1924-1944. I münchen 1944-46. 1946 utrangert og ombygd til arbeidsvogn 43 av Bærumsbanens verksted. Fra 1955 som nr. 393. Utrangert 1994.

Fd BB nr 3.
Bevart som OS arbeidsvogn 393.
The history of the class (only in Swedish):
Anskaffet til Bærumsbanens åpning i 1924. Trafikkvogner til 1939-57. En del tekniske komponenter brukt ved bygging av litra C. Nr. 1, 3 og 4 innrettet som arbeidsvogner.


More about the class
BB A