OS E2 163
AS Oslo Sporveier class E2 no 163
"gullfisk"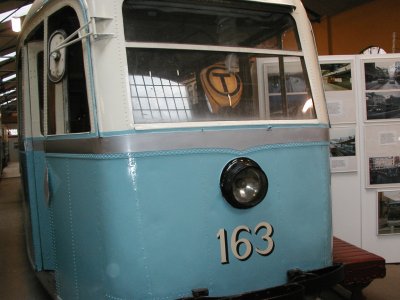 © Andreas Tunem Arnestad
data for rail vehicle 163
Vehicle:
motor car "gullfisk"
Class:
Manufacturer:
Strømmen, NEBB 1939
Colour:
blå, vit
Last renevation:
Owner:
LTF
Housed:
Vognhall 5
Museum year:
1958
Note:
Delvis oppusset, utstilt i Vognhall 5


data for the class E2 "gullfisk"
Vehicle:
motor car
Class:
Company:
AS Oslo Sporveier (OS)
Town:
Oslo
Class:
E2 "gullfisk"
Car number:
163
Built number:
1
Manufacturer:
Strømmen, NEBB 1939
Gauage (mm):
1435
Length (mm):
15400
Width (mm):
2500
Height (mm):
Weight (kg):
13440
Axel arrangement:
B'B'
Wheelbase (mm):
1850
Boggie center base (mm):
8300
Wheel diameter (mm):
750
Wheel tread width (mm):
Type of motor:
Motor power (kW):
100
Type of controller:
Type of coupling:
Compressor:
Operating current:
600 V DC
Max speed (km/h):
65
Door arrangement:
Number of passengers:
Out of service:
1957
Note:
Prøvevogn med elektrisk utstyr fra NEBB. Monomotorer
The history of the rail vehicle (only in Swedish):
Trafikvagn 1937-1957. Avstilt 1957-66. Till LTF 1966.
Bevart som ved utrangeringen, men er forfallen. Vogna stod utendørs mellom to vognhalle på Sagene i en årrekke.
The history of the class (only in Swedish):
Levert i en serie på 6 prototyper til Oslo Sporveier i 1937. I hovedsak i drift på Kjelsåsbanen. Vognas fjærsystem var dessverre av dålig konstruksjon samtidig som monomotorene forusatte en jevnlig avdreining av hjulene. Dette var en omstendig affære så lenge man ikke hade egnet hjuldreiebenk. Vogna bortsatt fordi den forfalt for revisjon i 1957, men var ellerss ett på som enkle å kjøre, men dessverre noe ukomfortabel pga. Fjærsystemet.

Museumsvogn LTF


More about the class
OS E2 "gullfisk"