OS MO53 38
AS Oslo Sporveier class MO53 no 38
"Høka"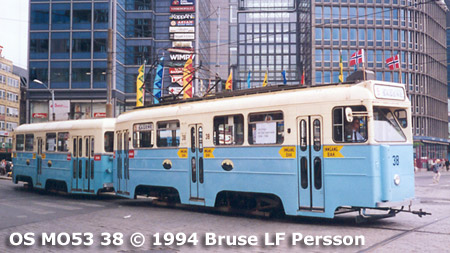 © Bruse LF Persson
data for rail vehicle 38
Vehicle:
motor car "Høka"
Class:
Manufacturer:
OS, Siemens 1957
Colour:
Last renevation:
Rebuilt:
Owner:
LTF
Housed:
Vognhall 5
Museum year:
1981
Deposited with the:


data for the class MO53 "Høka"
Vehicle:
motor car
Class:
Company:
AS Oslo Sporveier (OS)
Town:
Oslo
Class:
MO53 "Høka"
Car number:
33-40
Built number:
8
Manufacturer:
Høka, Sagene verkstad, Siemens 1954-1958
Gauage (mm):
1435
Length (mm):
11200
Width (mm):
2500
Height (mm):
3200
Weight (kg):
13560
Axel arrangement:
Wheelbase (mm):
Boggie center base (mm):
Wheel diameter (mm):
870
Wheel tread width (mm):
Type of motor:
D58wf
Motor power (kW):
2x42
Type of controller:
Type of coupling:
Compressor:
Operating current:
600 V DC
Max speed (km/h):
Door arrangement:
Number of passengers:
22 seating + 62 standing = 84 passengers
Out of service:
1980-1982
Note:
Vogne 33 i begynnelsen MBO52 före ombyggnad. Vagn 34 och 35 hade 24 sittplatser.

More about the class
OS MO53 "Høka"