OS ST89 589
AS Oslo Sporveier class ST89 no 589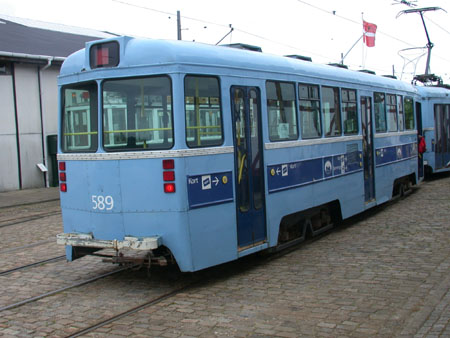 © PG Andersson
data for rail vehicle 589
Vehicle:
trailer car
Class:
4-axled single-ended (4xER)
Manufacturer:
Hägglund 1953
Colour:
Last renevation:
Rebuilt:
Owner:
Ringlinien
Housed:
Skjoldenæsholm
Museum year:
2000
Note:
tidligere GS litt S27 nr 448
Deposited with the:


data for the class ST89
Vehicle:
trailer car
Class:
4-axled single-ended (4xER)
Company:
AS Oslo Sporveier (OS)
Town:
Oslo
Class:
ST89
Car number:
582-591
Built number:
10
Manufacturer:
Hägglund 1978-1986
Gauage (mm):
1435
Length (mm):
13100
Width (mm):
2500
Height (mm):
Weight (kg):
12000
Axel arrangement:
Wheelbase (mm):
1800
Boggie center base (mm):
6000
Wheel diameter (mm):
680
Wheel tread width (mm):
Type of motor:
Motor power (kW):
Type of controller:
Type of coupling:
Compressor:
Operating current:
600 V DC
Max speed (km/h):
Door arrangement:
Number of passengers:
38 seating + 67 standing = 105 passengers
Out of service:
1999-2000
Note:
Tidligere litra hos OS: TBG Tidigare GS (Göteborg Spårvägar) type S-27 byggt i 1953, inköpt av OS i perioden 1978-1986.
The history of the class (only in Swedish):

Utrangert 1999-2000.
Vogn 586 er bevart av LTF i Oslo.
Vogn 589 er bevart av SSR, men befinner seg på Skjoldenæsholm i Danmark.


More about the class
OS ST89