TS 6
Trondheim Sporvei no 6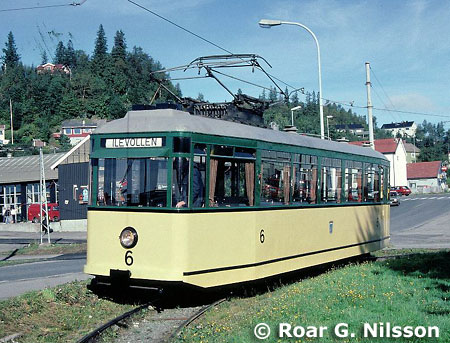 © Roar G. Nilsson
data for rail vehicle 6
Vehicle:
motor car
Class:
4-axled single-ended (4xER)
Manufacturer:
Skabo, BTH 1942
Colour:
gul/grön
Last renevation:
2001
Owner:
SHF
Housed:
Munkvoll
Museum year:
1986


data for the class (mv)
Vehicle:
motor car
Class:
4-axled single-ended (4xER)
Company:
Trondheim Sporvei (TS)
Town:
Trondheim
Class:
(mv)
Car number:
5-6 (II)
Built number:
2
Manufacturer:
Skabo, SSW, BTH 1942
Gauage (mm):
1000
Length (mm):
12500
Width (mm):
2600
Height (mm):
Weight (kg):
14200
Axel arrangement:
Wheelbase (mm):
Boggie center base (mm):
5600
Wheel diameter (mm):
660
Wheel tread width (mm):
Type of motor:
Motor power (kW):
4x31
Type of controller:
Type of coupling:
Compressor:
Operating current:
600 V DC
Max speed (km/h):
Door arrangement:
Number of passengers:
34 seating + 51 standing = 85 passengers
Out of service:
1956/1960
Note:
Driftsatta först 1948 pga kriget
The history of the rail vehicle (only in Swedish):
Nr 6 var den enda vagn av denna typ som inte gikk tapt i sporveisbrannen på Dalsenget 1956. Den har sedan hatt namnet "Den glade enke".
The history of the class (only in Swedish):


Nr 5 gikk tapt i brannen, mens nr 6 stod i en annan vagnhall Voldsminde og berget.

Driftsatta 1948 med motorer fra BTH. Nr 5 utrangert 1956, nr 6 utrangert 1960.


More about the class
TS (mv)