SRJ X4p 37
Stockholm-Roslagens Järnvägar class X4p no 37
"rävar"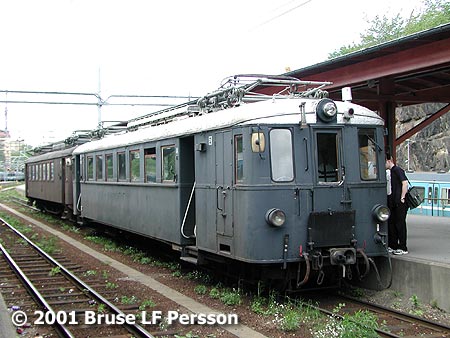 © Bruse LF Persson
data for rail vehicle 37
Vehicle:
suburban motor car "rävar"
Class:
Manufacturer:
ASEA 1938
Colour:
Last renevation:
Owner:
Stockholms Spårvägsmuseum
Housed:
Roslagsbanan
Museum year:


data for the class X4p "rävar"
Vehicle:
suburban motor car
Class:
Company:
AB Storstockholms Lokaltrafik (SL)
Town:
Stockholm
Line:
Roslagsbanan
Class:
X4p "rävar"
Car number:
37-45
Built number:
9
Manufacturer:
ASEA 1938-1940
Gauage (mm):
891
Length (mm):
18450
Width (mm):
Height (mm):
Weight (kg):
29800
Axel arrangement:
Bo'Bo'
Wheelbase (mm):
2100
Boggie center base (mm):
13000
Wheel diameter (mm):
830
Wheel tread width (mm):
Type of motor:
Motor power (kW):
260
Type of controller:
Type of coupling:
Compressor:
Operating current:
1500 V DC
Max speed (km/h):
75
Door arrangement:
Number of passengers:
58 seating = 58 passengers
Out of service:
1990-1993
Note:
Roslagsbanan.
The history of the rail vehicle (only in Swedish):
Bevarade av Roslagsbanans Veteranstågsförening.
The history of the class (only in Swedish):

"Rävar" ursprungligen "Silverrävar", fd SRJ motorvagn nr 121-129, fd SJ Xoa4p 2121-2129. Vagn 45 levererad 1940, övriga 1938. Bevarad vagn: vagn nr 37 i veterantåg.


More about the class
SL X4p "rävar"