SL C5 2901
AB Storstockholms Lokaltrafik class C5 no 2901
"silverpilen"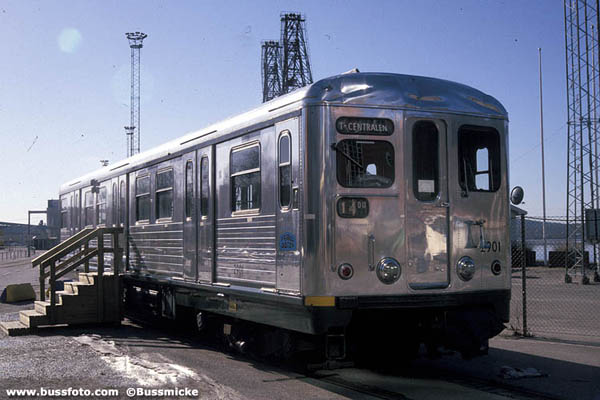 © Michael "Bussmicke" Nilsson
data for rail vehicle 2901
Vehicle:
underground car "silverpilen"
Class:
4-axled single-ended (4xER)
Manufacturer:
Hägglund 1963
Colour:
rostfri
Last renevation:
Owner:
Hägglund
Housed:
Mannaminne
Museum year:
1996


data for the class C5 "silverpilen"
Vehicle:
underground car
Class:
4-axled single-ended (4xER)
Company:
AB Storstockholms Lokaltrafik (SL)
Town:
Stockholm
Line:
Tunnelbanan
Class:
C5 "silverpilen"
Car number:
2901-2908
Built number:
8
Manufacturer:
Hägglund 1963-1965
Gauage (mm):
1435
Length (mm):
17620
Width (mm):
2780
Height (mm):
3670
Weight (kg):
20000
Axel arrangement:
Bo'Bo'
Wheelbase (mm):
2300+8700
Boggie center base (mm):
11000
Wheel diameter (mm):
864
Wheel tread width (mm):
Type of motor:
Motor power (kW):
264
Type of controller:
Type of coupling:
Compressor:
Operating current:
Max speed (km/h):
80
Door arrangement:
Number of passengers:
48 seating + 108 standing = 156 passengers
Out of service:
Note:
The history of the rail vehicle (only in Swedish):
Silverpilen
The history of the class (only in Swedish):


"Silverpilen", aluminiumfärgade.
Fd nr 3001-3008, omnumrerades 1966 då vagnarna sattes i trafik.
Bevarad vagn: nr 2901 hos tillverkaren Hägglunds i Örnsköldsvik.


More about the class
SL C5 "silverpilen"