GS M25 606
Göteborgs Spårvägar class M25 no 606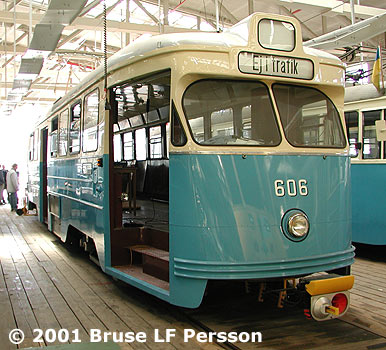 © Bruse LF Persson
data for rail vehicle 606
Vehicle:
motor car
Class:
4-axled single-ended (4xER)
Manufacturer:
Hägglunds 1961
Colour:
Last renevation:
Rebuilt:
Owner:
Göteborgs stad
Housed:
Ringlinien
Museum year:
Preservation category:
1
Deposited with the:


data for the class M25
Vehicle:
motor car
Class:
4-axled single-ended (4xER)
Company:
Göteborgs Spårvägar (GS)
Town:
Göteborg
Class:
M25
Car number:
501-625
Built number:
125
Manufacturer:
Hägglund 1958-1962
Staffing:
enmansbetjänad
Gauage (mm):
1435
Length (mm):
15132
Width (mm):
2650
Height (mm):
Weight (kg):
18200
Axel arrangement:
Bo'Bo'
Wheelbase (mm):
1800
Boggie center base (mm):
7000
Wheel diameter (mm):
680
Wheel tread width (mm):
Type of motor:
HS MBL 10A
Motor power (kW):
200
Type of controller:
Type of coupling:
Compressor:
Operating current:
Max speed (km/h):
60
Door arrangement:
Number of passengers:
38 seating + 78 standing = 116 passengers
Out of service:
1994
Note:
Tidigare typbeteckning MB06
The history of the class (only in Swedish):


Levererade som vsäntervagnar och ombyggda frö högertrafik 1963-1970.

30 stycken M25 modifierades för att gå på Angeredsbanan, 15 i vänstertrafikutförande och 15 i högertrafikutförande. Då denna bana första tiden saknade vändslingor ville man ha spårvagnståg med en förarhytt i var ände av tåget. Vagnar för Angeredsbanan fick ett "A" i typbeteckningen. Dessa vagnar blev ombyggda för A-banan:
Vänstervagnar (M25Av) nr 579-593
Högervagnar (M25Ah) nr 611-625

Under 1992-1994 såldes 36 st till Oslo Sporveier och erhöll numren 264-299.


More about the class
GS M25