KS (mv)
Københavns Sporveje class (mv) no 501-618
"Lunding"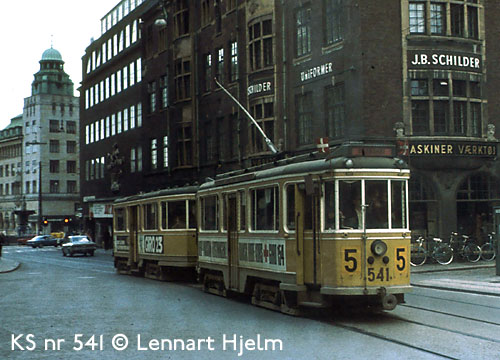 © Lennart Hjelm
data for the class (mv) "Lunding"
Vehicle:
motor car
Class:
4-axled single-ended (4xER)
Company:
Københavns Sporveje (KS)
Town:
København
Class:
(mv) "Lunding"
Car number:
501-618
Built number:
118
Manufacturer:
KS 1930-1941
Gauage (mm):
1435
Length (mm):
Width (mm):
Height (mm):
Weight (kg):
Axel arrangement:
Wheelbase (mm):
Boggie center base (mm):
Wheel diameter (mm):
Wheel tread width (mm):
Type of motor:
Motor power (kW):
Type of controller:
Type of coupling:
Compressor:
Operating current:
Max speed (km/h):
Door arrangement:
Number of passengers:
Out of service:
1965-1972
Note:
The history of the class (only in Swedish):
Vagnar 547-556 från 1934 fd NESA 921-930, tillbaka till KS 1952-1953 med nya nummer 609-618.

1950-1958 ombyggda för fast konduktör och mittdörr, och blev därmed enriktningvagnar.

Museivagnar:
HT Museum: 575.
SHS: 587, 617.
Omstigningsklubben: 564, 598, 608.
Teknisk Museum Caracas: 541.

| KS nr | fd nr |
| --- | --- |
| 177 | DKS 200 |
| 200 | DKS 177 |
| 201-234 | DKS 501-534 |
| 245-274 | DKS 545-574 |
| 275-279 | TKES 575-579 |
| 290-304 | DKS 590-604 |
| 305-314 | DKS 605-614 |
| 315-339 | KS 615-639 |
| 640-369 | KS 640-669 |
| 370-421 | FSEA 1-52 |
| 422-446 | KS 670-694 |
| 609-618 | NESA 921-930 |
| 901-910 | TKES 535-544 |
| NESA 911-920 | TKES 580-589 |
| NESA 921-930 | KS 547-556 |
| 280-287 | NESA 911-915, 917, 919-9120 |