KSS(no) (mv)
Kristiania Sporveisselskab class (mv) no 66-102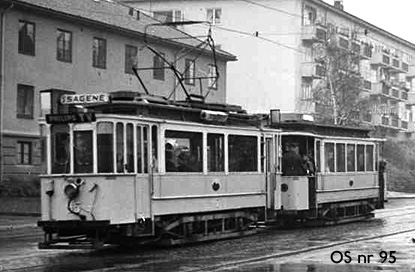 © (okänd)
data for the class (mv)
Vehicle:
motor car
Class:
Company:
Kristiania Sporveisselskab (KSS(no))
Town:
Oslo
Class:
(mv)
Car number:
66-102
Built number:
37
Manufacturer:
Falkenried, Skabo 1913-1914
Gauage (mm):
1435
Length (mm):
10500
Width (mm):
2000
Height (mm):
Weight (kg):
13600
Axel arrangement:
Bo
Wheelbase (mm):
3200
Boggie center base (mm):
Wheel diameter (mm):
Wheel tread width (mm):
Type of motor:
Motor power (kW):
84
Type of controller:
Type of coupling:
Compressor:
Operating current:
600 V DC
Max speed (km/h):
Door arrangement:
Number of passengers:
24 seating + 28 standing = 52 passengers
Out of service:
Note:
The history of the class (only in Swedish):
Senare Oslo Sporveier (OS) 66-102.

Vogn 70 bevart av Oslo Sporveier.
Vogn 74 bevart av Bergen Elektriske sporvei som BES 47.
Vogn 90 bevart av LTF som OS arbeidsvogn 203.
Vogn 91 bevart av LTF.
Vognene 87, 95 og 96 bevart av LTF som KSS 87, KSS 95 og KSS 96.

| OS nr | fd KSS nr | fd KeS nr |
| --- | --- | --- |
| 1-19 | 1-19 | |
| 20-32 | 35-47 | |
| 33-40 | | |
| 41-47 | | |
| 48-57 | | 320-329 |
| 58-60 | | |
| 61-65 | | |
| 66-102 | 66-102 | |
| 103-120 | | 302-319 |
| 121-137 | 505-521 | |
| 138-154 | 522-538 | |
| 155 | 539 | |
| 156-157 | 540-541 | |