OS HaWa
AS Oslo Sporveier class HaWa no 138-154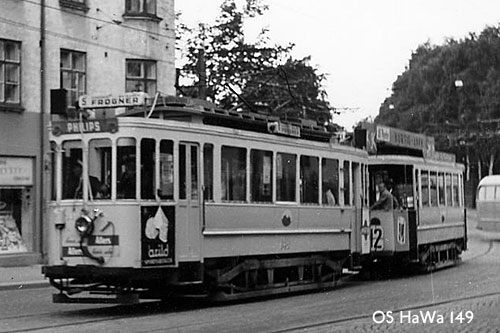 © Bjørn Andersen
data for the class HaWa
Vehicle:
motor car
Class:
Company:
AS Oslo Sporveier (OS)
Town:
Oslo
Class:
HaWa
Car number:
138-154
Built number:
17
Manufacturer:
HaWa, Siemens 1921-1923
Gauage (mm):
1435
Length (mm):
11200
Width (mm):
2000
Height (mm):
Weight (kg):
16100
Axel arrangement:
Bo
Wheelbase (mm):
3200
Boggie center base (mm):
Wheel diameter (mm):
870
Wheel tread width (mm):
Type of motor:
Motor power (kW):
2x51
Type of controller:
Type of coupling:
Compressor:
Operating current:
600 V DC
Max speed (km/h):
Door arrangement:
Number of passengers:
24 seating + 44 standing = 68 passengers
Out of service:
1966-1967
Note:
The history of the class (only in Swedish):
Tidligere Grønntrikken (KSS) 522-538.

Vogntypen anskaffet 1922-23 som KSS nr. 522-538. Fra 1924 OS nr. 138-154. Vogn 149 (KSS 533) bevart av LTF.

| OS nr | fd KSS nr | fd KeS nr |
| --- | --- | --- |
| 1-19 | 1-19 | |
| 20-32 | 35-47 | |
| 33-40 | | |
| 41-47 | | |
| 48-57 | | 320-329 |
| 58-60 | | |
| 61-65 | | |
| 66-102 | 66-102 | |
| 103-120 | | 302-319 |
| 121-137 | 505-521 | |
| 138-154 | 522-538 | |
| 155 | 539 | |
| 156-157 | 540-541 | |