AB (mv)
AS Akersbanene class (mv) no 201-205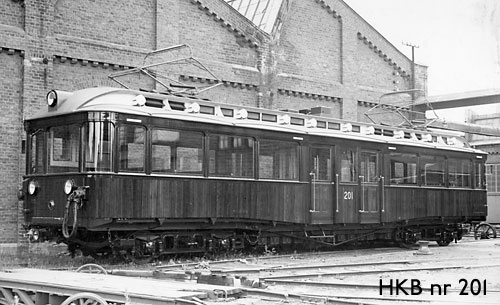 © Leveransfoto
data for the class (mv)
Vehicle:
suburban motor car
Class:
4-axled double-ended (4xZR)
Company:
AS Akersbanene (AB)
Town:
Oslo
Line:
Akersbanen
Class:
(mv)
Car number:
201-205
Built number:
5
Manufacturer:
Skabo, SSW 1934
Gauage (mm):
1435
Length (mm):
15300
Width (mm):
3100
Height (mm):
Weight (kg):
30500
Axel arrangement:
Bo'Bo'
Wheelbase (mm):
2100
Boggie center base (mm):
10000
Wheel diameter (mm):
750
Wheel tread width (mm):
Type of motor:
Motor power (kW):
4x75
Type of controller:
Type of coupling:
Compressor:
Operating current:
600 V DC
Max speed (km/h):
60
Door arrangement:
Number of passengers:
72 seating + 50 standing = 122 passengers
Out of service:
1976-1979
Note:
Akersbanene (AB)
The history of the class (only in Swedish):
Anskaffet til åpningen av Sognsvannsbanen, opprinnlig for AS Akersbanene, men Holmenkolbanen overtok driftsansvaret for banen fra åpningen.
Vognene bygd for s.k. traksjonsstyring to og to, men utstyret aldri utnyttet utover testkjøring.
Vogn 201 avstilt etter brann 1973, de øvrige etter at 202 også brant i 1977. 205 bevart.