TS (mv)
Trondheim Sporvei class (mv) no 35-39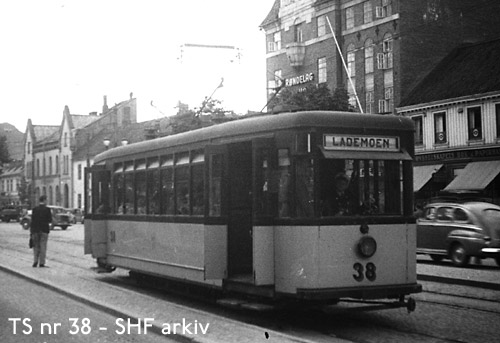 © SHF:s arkiv
data for the class (mv)
Vehicle:
motor car
Class:
2-axled single-ended (2xER)
Company:
Trondheim Sporvei (TS)
Town:
Trondheim
Class:
(mv)
Car number:
35-39
Built number:
5
Manufacturer:
Strømmen, Siemens 1930
Gauage (mm):
1000
Length (mm):
1000
Width (mm):
Height (mm):
Weight (kg):
13500
Axel arrangement:
Wheelbase (mm):
3200
Boggie center base (mm):
Wheel diameter (mm):
Wheel tread width (mm):
Type of motor:
Motor power (kW):
86
Type of controller:
Type of coupling:
Compressor:
Operating current:
600 V DC
Max speed (km/h):
Door arrangement:
Number of passengers:
Out of service:
1956
Note:
The history of the class (only in Swedish):
Fire av de fem vognene gikk tapt i brannen.

Vagn 36 brant ute på linjen i desember 1956. Denne ble gjennoppbygd på eget verksted i en modernisert versjon i 1957 og gitt nr 8.

Vogntypen ble ombygget til enretningsvogner på 1950-talet. Den siste -nr 36 - var inne på malerverkstedet for HR og slik ombygging, og det var derfor den berget sporveisbrannen.