TS (sv)
Trondheim Sporvei class (sv) no 70-72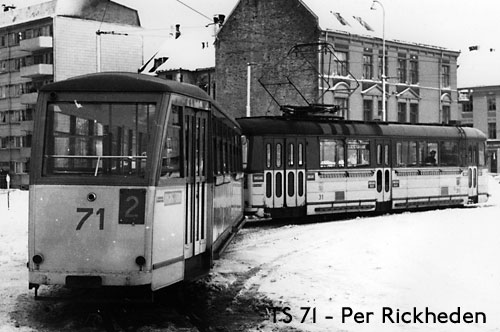 © Per Rickhedens arkiv
data for the class (sv)
Vehicle:
trailer car
Class:
4-axled single-ended (4xER)
Company:
Trondheim Sporvei (TS)
Town:
Trondheim
Class:
(sv)
Car number:
70-72
Built number:
3
Manufacturer:
Hasselt 1951
Gauage (mm):
1000
Length (mm):
14800
Width (mm):
2400
Height (mm):
Weight (kg):
10000
Axel arrangement:
Wheelbase (mm):
Boggie center base (mm):
800
Wheel diameter (mm):
620
Wheel tread width (mm):
Type of motor:
Motor power (kW):
Type of controller:
Type of coupling:
Compressor:
Operating current:
600 V DC
Max speed (km/h):
Door arrangement:
Number of passengers:
93 standing
Out of service:
1956, 1965, 1984
Note:
fd SNCV
The history of the class (only in Swedish):
fd SNCV i Belgien. Kjøpt begagnad i 1956. Ombyggda från tvåriktningsvagn till enriktnings i Trondheim.

Tilltänkta nummer 106-108.
Nr 70/106 brann før den kom i drift
Nr 71 och 72 i drift. Begge ombygd med sittende konduktør. Nr 72 ombygget for bruk på Gråkallbanen 1968 med "Strømmenbenker" montert etter hverandre. 44 sitteplasser.

Antal passagerare: 60, 56 med sittende konduktør fra 1957. 93 ståplasser

Utrangerade: Oktober 1956 (105), 1965 (71) 1984 (72)