HKL NrII
Helsingin Kaupupungin Liikennelaitos class NrII no 71-112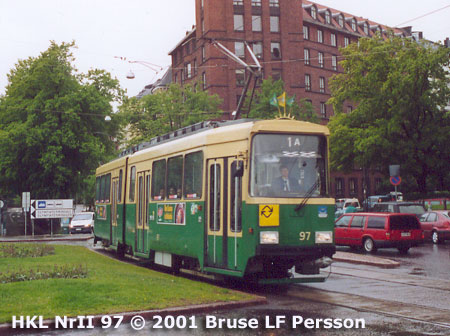 © Bruse LF Persson
data for the class NrII
Vehicle:
motor car
Class:
6-axled articulated single-ended (6xGelER)
Company:
Helsingin Kaupupungin Liikennelaitos (HKL)
Town:
Helsingfors
Class:
NrII
Car number:
71-112
Built number:
42
Manufacturer:
Valmet, SAT, Strömberg 1983-1987
Gauage (mm):
1000
Length (mm):
Width (mm):
2300
Height (mm):
Weight (kg):
Axel arrangement:
B'2'B'
Wheelbase (mm):
Boggie center base (mm):
Wheel diameter (mm):
Wheel tread width (mm):
Type of motor:
Motor power (kW):
Type of controller:
Type of coupling:
Compressor:
Operating current:
600 V DC
Max speed (km/h):
Door arrangement:
Number of passengers:
Out of service:
2011
Note:
Nr = nivelraitiovaunu (ledspårvagn), användes av Valmet
The history of the class (only in Swedish):
Enligt 1969 års beslut målades ledvagnarna 31-103 först i en orange-grå färgsättning. Åren 1986-1995 ommålades alla grön-gula. 104-112 levererades från början i denna nygamla färgsättningen.
Största delen av vagnarna 31-112 har renoverats åren 1993-2003 till NrI+ respektive NrII+.
Ombyggda med mellandel, numera typ MLNRV2.