OS SM53
AS Oslo Sporveier class SM53 no 204-253
"Høka"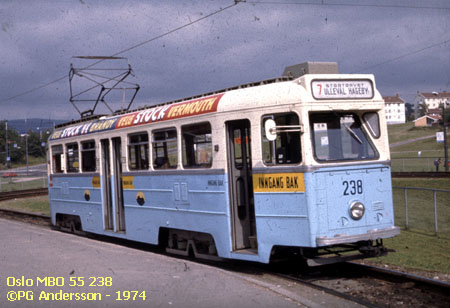 © PG Andersson
data for the class SM53 "Høka"
Vehicle:
motor car, boggie
Class:
4-axled single-ended (4xER)
Company:
AS Oslo Sporveier (OS)
Town:
Oslo
Class:
SM53 "Høka"
Car number:
204-253
Built number:
49
Manufacturer:
Høka, Hägglund 1952-1958
Staffing:
fast konduktör
Gauage (mm):
1435
Length (mm):
14700
Width (mm):
2500
Height (mm):
3110
Weight (kg):
16900
Axel arrangement:
Wheelbase (mm):
1800
Boggie center base (mm):
7600
Wheel diameter (mm):
680
Wheel tread width (mm):
110
Type of motor:
Hägglund MBL10
Motor power (kW):
4x45,6
Type of controller:
Hägglund & Söner CBKM-4A, kamvals
Type of coupling:
albert
Compressor:
Atlas-Copco NE3
Operating current:
600 V DC
Max speed (km/h):
Door arrangement:
H 1-0-20-1
Number of passengers:
36 seating + 100 standing = 136 passengers
Out of service:
1992-1997
Note:
MBO50, MBO55, MBO56
The history of the class (only in Swedish):
MBO50 nr 204-233 levererade 1952-1953.
MBO55 nr 234-245 levererade 1957.
MBO56 nr 246-253 levererade 1958.

MBO50 levererades med 41 sittplatser, ändrat till 36 i 1959.