OS T2000
AS Oslo Sporveier class T2000 no 2001-2012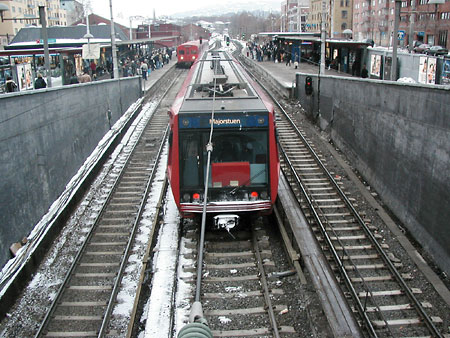 © Andreas Tunem Arnestad
data for the class T2000
Vehicle:
underground car
Class:
4-axled double-ended (4xZR)
Company:
AS Oslo Sporveier (OS)
Town:
Oslo
Line:
T-banen
Class:
T2000
Car number:
2001-2012
Built number:
12
Manufacturer:
ABB Strømme, MAN, AEG 1994
Gauage (mm):
1435
Length (mm):
18300
Width (mm):
3300
Height (mm):
Weight (kg):
35000
Axel arrangement:
Bo'Bo'
Wheelbase (mm):
2100
Boggie center base (mm):
11100
Wheel diameter (mm):
850
Wheel tread width (mm):
Type of motor:
Motor power (kW):
572
Type of controller:
Type of coupling:
Compressor:
Operating current:
750 V DC
Max speed (km/h):
70
Door arrangement:
Number of passengers:
60 seating + 125 standing = 185 passengers
Out of service:
Note:
Parkopplade. Forebrett på innkobling av mellomvogner. Alternativt strømopptak fra tredje skinne eller kjøreledning.