OS SM91
AS Oslo Sporveier class SM91 no 264-299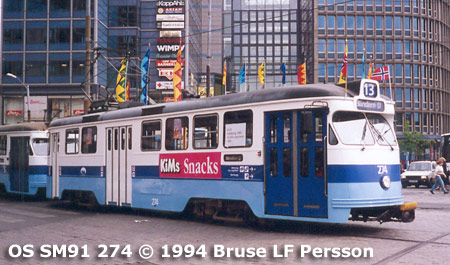 © Bruse LF Persson
data for the class SM91
Vehicle:
motor car
Class:
4-axled single-ended (4xER)
Company:
AS Oslo Sporveier (OS)
Town:
Oslo
Class:
SM91
Car number:
264-299
Built number:
36
Manufacturer:
Hägglund 1958-1962
Staffing:
enmansbetjänad
Gauage (mm):
1435
Length (mm):
14160
Width (mm):
2650
Height (mm):
Weight (kg):
18000
Axel arrangement:
Bo`Bo`
Wheelbase (mm):
1800
Boggie center base (mm):
7000
Wheel diameter (mm):
680
Wheel tread width (mm):
Type of motor:
Motor power (kW):
180
Type of controller:
Type of coupling:
Compressor:
Operating current:
600 V DC
Max speed (km/h):
60
Door arrangement:
Number of passengers:
38 seating + 78 standing = 116 passengers
Out of service:
1998-2000
Note:
The history of the class (only in Swedish):
Tidigare Göteborg Spårvagnar typ M25, inköpt av OS i perioden 1992-1994.

Vagn 264 och 265 inhyrda av OS i perioden 1998-2000.

3 vogner kjøpt inn for ervervelse av reservedeler, disse hade GS nummerene: 520, 577 og 619.

Utrangert i perioden 1998-2002.


Before this
GS M25

Tram depot list

Linjekartor, historik mm

Detaljerad lista:

| OS SM91 nr | GS M25 nr |
| --- | --- |
| 264 | 582 |
| 265 | 552 |
| 266 | 555 |
| 267 | 507 |
| 268 | 528 |
| 269 | 535 |
| 270 | 549 |
| 271 | 553 |
| 272 | 556 |
| 273 | 563 |
| 274 | 568 |
| 275 | 569 |
| 276 | 575 |
| 277 | 599 |
| 278 | 600 |
| 279 | 603 |
| 280 | 512 |
| 281 | 514 |
| 282 | 515 |
| 283 | 519 |
| 284 | 521 |
| 285 | 524 |
| 286 | 527 |
| 287 | 530 |
| 288 | 540 |
| 289 | 544 |
| 290 | 547 |
| 291 | 548 |
| 292 | 561 |
| 293 | 570 |
| 294 | 572 |
| 295 | 576 |
| 296 | 578 |
| 297 | 595 |
| 298 | 596 |
| 299 | 536 |