TS (mv)
Trondheim Sporvei class (mv) no 10-32 (III)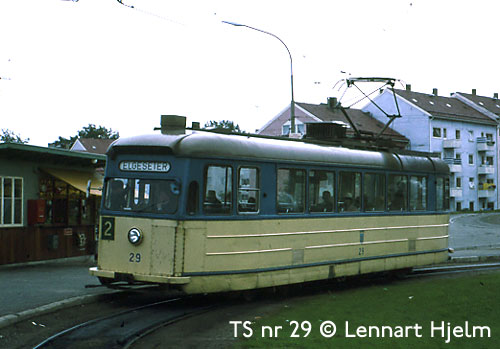 © Lennart Hjelm
data for the class (mv)
Vehicle:
motor car
Class:
4-axled single-ended (4xER)
Company:
Trondheim Sporvei (TS)
Town:
Trondheim
Class:
(mv)
Car number:
10-32 (III)
Built number:
12
Manufacturer:
Strømmen, NEBB 1957-1958
Gauage (mm):
1000
Length (mm):
13200
Width (mm):
2600
Height (mm):
Weight (kg):
15900
Axel arrangement:
Wheelbase (mm):
1650
Boggie center base (mm):
5600
Wheel diameter (mm):
680
Wheel tread width (mm):
Type of motor:
NEBB GDT 152
Motor power (kW):
192
Type of controller:
Type of coupling:
Compressor:
Operating current:
600 V DC
Max speed (km/h):
Door arrangement:
Number of passengers:
32 seating + 52 standing = 84 passengers
Out of service:
1976-1988
Note:
The history of the class (only in Swedish):
Nye vognkasser på gamle boggier fra før brannen (nr 10-25) Helt nye: nr 26-32. Ombygget til enmannsbetj 1968. Vognene ombygget til kjøring på Gråkallbanan fra 1966. Bevart: 14, 19, 21, 22, 29.