MSS SE-1 47
Malmö Stads Spårvägar class SE-1 no 47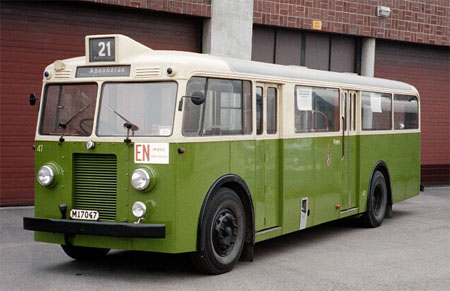 © PG Andersson
data for road vehicle SE-1 47
Vehicle:
diesel bus
Manufacturer:
Scania-Vabis, SKV 1939
Staffing:
enmansbetjänad
Length (mm):
9900
Width (mm):
2300
Height (mm):
2860
Weight (kg):
7780
Wheelbase (mm):
5500
Tyre dimension:
front: , rear:
Type of motor:
Scania Vabis 16641
Motor power:
89 kW
Gearbox:
Chassis:
Scania-Vabis B 850
Chassis number:
9245
Coach:
SKV Katrineholm
Registration number:
BHB 545
First reg.number:
M 17047
First reg.date:
1939-10-30
Max speed (km/h):
Door arrangement:
V 0-101-0
Number of passengers:
seating: 29, standing: 31
Colour:
grön/créme
Last renevation:
Operation category:
You must log in to see this field.
Preservation category:
You must log in to see this field.
Owner:
SSS
Housed:
Malmö
Museum year:
1967
Note:
The history of the road vehicle:
Personligt regnr från 1989: M17047.

Busstypen var den första i Malmö, som var gjord endast för enmansbetjäning. Omnummerering skedde 1956 genom att en 1:a sattes framför det gamla numret. Bussen togs ur trafik den 3 september 1967 (höger trafikomläggningen) och skänktes samma år till Svenska Spårvägssällskapet. Bussen kördes för egen maskin till Malmköping där den ställdes upp i en busslada. 1983 renoverades bussen, återfick sitt ursprungliga nummer 47 och flyttades till Malmö där Spårvägssällskapets Malmöavdelning numera vårdar bussen. I samband med bussens 50-årsdag den 30 september 1989 fick den tillbaka sitt urs prungliga registreringsnummer M17047 i form av en personlig registreringsskylt.

Donerad till SSS juli 1967 av Malmö Stads Spårvägar som litt SE-1, nr MSS 147.
Uppställd i Malmköping augusti 1967. Flyttad till lada i Fräkentorp.
Ommärkt från 147 till 47 1983 07 18 (nr 47 1939 1956).
Körd till Uppsala fvb till Skåne 1983 07 23.
Tak och crémegult ommålat 1984.
Registreringsbesiktigad och godkänd 1983 08 18.

Utvändigt grönt och tak, invändigt tak samt fönsterlister omlackerat våren 1995.
Dispens för kilometerräknare.
Dispens för körning i miljözon till 2001-12-31.