TGOJ 10
Trafikaktiebolaget Grängesberg-Oxelösunds Järnvägar no 10


© Björn-Erik Tapper
data for road vehicle 10
Vehicle:
diesel bus
Manufacturer:
Scania 1968
Staffing:
enmansbetjänad
Length (mm):
12.5
Width (mm):
2500
Height (mm):
Weight (kg):
9040
Wheelbase (mm):
58800
Tyre dimension:
front: , rear:
Type of motor:
Motor power:
Gearbox:
Scania G504
Chassis:
Scania CF 110 L 59
Chassis number:
524441
Coach:
Registration number:
FOM 290
First reg.number:
D 200
First reg.date:
Max speed (km/h):
Door arrangement:
Number of passengers:
seating: , standing:
Colour:
Last renevation:
Operation category:
Preservation category:
Owner:
SSS
Housed:
Mälardalen
Museum year:
2001
Note:
The history of the road vehicle:
Bussen var ursprungligen TGOJ nr 10 med regnr D200 målad som den är nu.
Bussen överförde sedan till SLT och målades då SLT vit och grön. Troligen nr 742.

När den togs ut trafik piffades den upp som museibuss hos SLT i Eskilstuna och målades Eskilstunablå. Eskilstuna omnibustrafik hade haft en serie exakt lika dana bussar och den fick "nästa nummer", dvs ett nummer högre än vad den högsta bussen av denna typ i Eskilstuna haft. När näckrosbuss tog över numrerades den om i Näckrosbuss museibuss serie 9000 (och uppåt). Därav NB 9000. När Busslink beslutade sig för att göra sig av med alla museibussar blev Svenska Spårvägssällskapet erbjudna den.

Eftersom TGOJ nr 10 nu återställts i originalskick så numreras den om. TGOJ-bokstäver är beställda och ska monteras på bussen.
Tidigare utförande: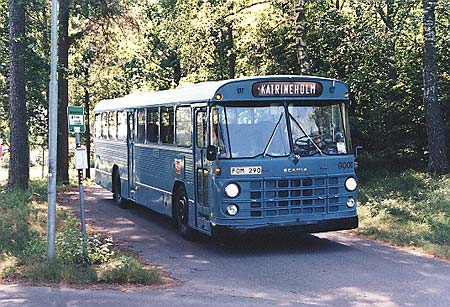 Näckrobuss nr 9000, © Jan Rickman