SL H59A 5294
AB Storstockholms Lokaltrafik class H59A no 5294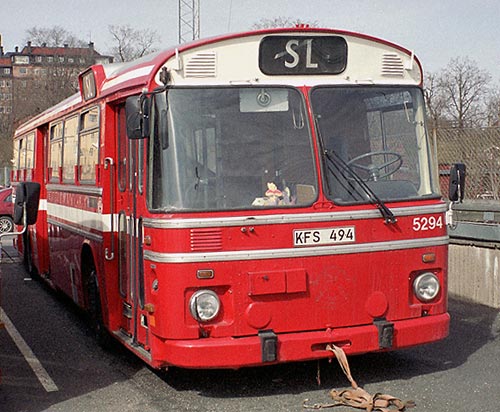 © Jan Rickman
data for road vehicle H59A 5294
Vehicle:
diesel bus
Manufacturer:
Scania
Length (mm):
11600
Width (mm):
Height (mm):
Weight (kg):
9420
Wheelbase (mm):
Tyre dimension:
front: , rear:
Type of motor:
Motor power:
205 hk
Gearbox:
Scania HR501
Chassis:
Scania CR111M59
Chassis number:
544842
Coach:
Scania D11 CO7
Registration number:
KFS 494
First reg.number:
KFS 494
First reg.date:
1978-08-30
Max speed (km/h):
Door arrangement:
2-2-0
Number of passengers:
seating: 40, standing: 36
Colour:
Röd/Vit (SL86)
Last renevation:
Operation category:
III (requires major repairs to become ready for operating use)
Preservation category:
Owner:
SSS
Housed:
Mälardalen
Museum year:
2003
Note:
The history of the road vehicle:
SL 5294 skänktes till SSS 2003-07-02 av AB Storstockholms Lokaltrafik.
Bussen var då ombyggd till "kioskbuss" och användes under Vattenfestivalerna i Stockholm på 1990-talet.
Bussen kördes till Uppsala 2003-07-22 och förvarades i trakten där i avvaktan på renovering och ombyggnad.
Sedan 2009 används den som utställningsbuss för Svenska Spårvägssällskapet och dess lokalavdelningar runtom i landet. I den främre delen finns visningsmöjligheter för bildspel och filmer, i den bakre ett konferensutrymme.
När bussen inte används förvaras den vanligen i Göteborg.