SS F3 4036
AB Stockholms Spårvägar class F3 no 4036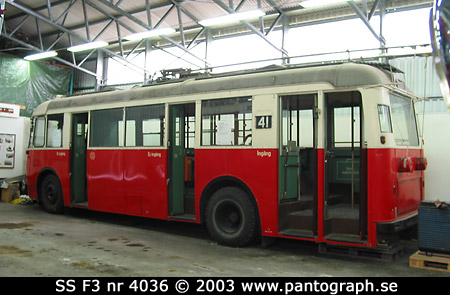 © Bruse LF Persson
data for road vehicle F3 4036
Vehicle:
trolleybus
Manufacturer:
Scania-Vabis, Hägglund, ASEA 1949
Staffing:
fast konduktör
Length (mm):
10100
Width (mm):
2420
Height (mm):
3450
Weight (kg):
8510
Wheelbase (mm):
5500
Tyre dimension:
front: , rear:
Type of motor:
ASEA LJB 26-34
Motor power:
80 kW
Type of controller:
ASEA CBK 40B
Type of coupling:
Gearbox:
Chassis:
Scania-Vabis T 31
Chassis number:
99101
Coach:
Registration number:
BKN 975
First reg.number:
First reg.date:
Max speed (km/h):
Door arrangement:
V 0-101-2
Number of passengers:
seating: 25, standing: 42
Colour:
röd, vit
Last renevation:
1964-08-21
Operation category:
IIB (ready for operating use after minor repairs)
Preservation category:
Owner:
SSS
Housed:
Malmköping
Museum year:
1965
Note:

Fact sheet SS F3 4036
The history of the road vehicle:
Inköpt av SSS 1965 11 29 från AB Stockholms Spårvägar för 150: .
Uppställd i Högdalen. Transporterad till Malmköping september 1967.
Inflyttad i lada i Smedstorp oktober 1970.
Transporterad till Malmköping och inställd i Vagnorama 1984 06 09.
Dispens för kilometerräknare.