KKA 17
Karlskrona Kommunala Affärsverk no 17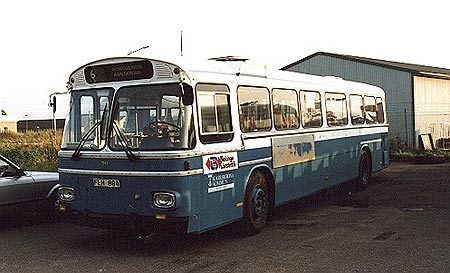 © Jan Rickman
data for road vehicle 17
Vehicle:
diesel bus
Manufacturer:
Scania-Vabis 1967
Staffing:
enmansbetjänad
Length (mm):
10950
Width (mm):
2500
Height (mm):
2920
Weight (kg):
7960
Wheelbase (mm):
5900
Tyre dimension:
front: , rear:
Type of motor:
Scania-Vabis D11 R23
Motor power:
140 hk
Type of controller:
Type of coupling:
Gearbox:
ZF 2 HP45
Chassis:
Scania Vabis CR76-59
Chassis number:
540767
Coach:
Registration number:
FLH 804
First reg.number:
First reg.date:
1967-09-01
Max speed (km/h):
Door arrangement:
H 1-002-0
Number of passengers:
seating: 31, standing: 45
Colour:
blå/vit
Last renevation:
Operation category:
I (ready for operating use)
Preservation category:
Owner:
SSS
Housed:
Malmköping
Museum year:
1991
Note:
The history of the road vehicle:
Donerad till SSS 1991 04 23 av Karlskrona Kommunala Affärsverk.
Körd från Karlskrona till Malmköping 1991.
Körd från Malmköping till Uppsala 1991.
Körd från Uppsala till Malmköping för vinteravställning 1991.

Färdskrivare saknas.
Bussen får endast användas i linjetrafik.