SL H35 4545
AB Storstockholms Lokaltrafik class H35 no 4545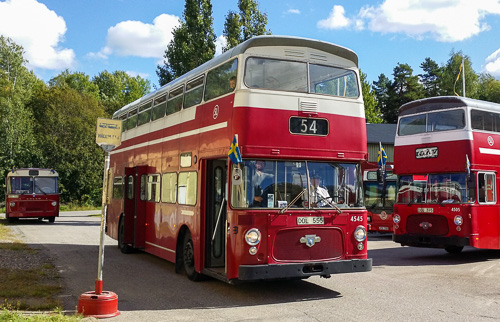 © Magnus Svensson
data for road vehicle H35 4545
Vehicle:
diesel bus, tvåvåning
Manufacturer:
Leyland, Park Royal 1967
Staffing:
enmansbetjänad
Length (mm):
11100
Width (mm):
2500
Height (mm):
4277
Weight (kg):
10530
Wheelbase (mm):
56400
Tyre dimension:
front: 10.00 x 20, rear: 10.00 x 20
Type of motor:
Leyland 0.680
Motor power:
121 hk
Type of controller:
Type of coupling:
Gearbox:
Voith DIWA 502-3
Chassis:
Leyland Atlantean PDR 1/1
Chassis number:
702007
Coach:
Park Royal
Registration number:
DDL 555
First reg.number:
A 74545
First reg.date:
1967-12-05
Max speed (km/h):
65
Door arrangement:
H 2-002-0
Number of passengers:
seating: 71, standing: 8
Colour:
oxblodsröd/vit, grått tak
Last renevation:
Operation category:
II (ready for operating use, but in need of minor repairs)
Preservation category:
Owner:
SSS
Housed:
Mälardalen
Museum year:
1976
Note:

Fact sheet SL H35 4545
The history of the road vehicle:
43 sittande på övervåningen

Donerad till SSS 1976-05-27 av AB Storstockholms Lokaltrafik.
Transporterad till Malmköping.
Registreringsbesiktigad och godkänd juni 1976.
Besiktigad och godkänd 1980, 1982, maj 1984, augusti 1986.
Målad utvändigt december 1976 maj 1977.
Utrustad med färdskrivare juni 1976.
Målad utvändigt juli augusti 1988.
EU-färdskrivare monterad.
Stationerad i Malmköping.

En av samtliga tre kvarvarande tvåvåningsbussar av typ Leyland Atlantean, nr 4505, 4525 och 4545. Nr 4525 ägs av Stockholms Spårvägsmuseum.