HB 120
Havdhems Brandkår no 120
"torped"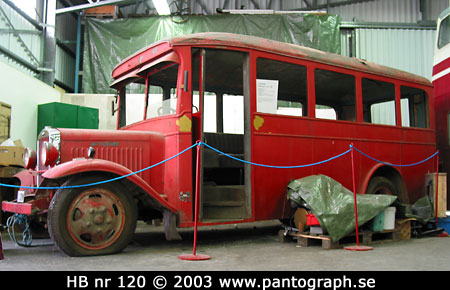 © Bruse LF Persson
data for road vehicle 120 "torped"
Vehicle:
gasoline bus, torped
Manufacturer:
Volvo, SKV 1932
Staffing:
enmansbetjänad
Length (mm):
6600
Width (mm):
2000
Height (mm):
2630
Weight (kg):
3050
Wheelbase (mm):
4090
Tyre dimension:
front: , rear:
Type of motor:
Volvo EB
Motor power:
65 hk
Gearbox:
Chassis:
Volvo LV 72
Chassis number:
20051
Coach:
Registration number:
HGB 020
First reg.number:
First reg.date:
1932-06-10
Max speed (km/h):
Door arrangement:
V 0-100-0
Number of passengers:
seating: 0, standing: 19
Colour:
röd
Last renevation:
1950 ?
Operation category:
IV (requires a complete overhaul to become ready for operating use)
Preservation category:
1
Owner:
SSS
Housed:
Malmköping
Museum year:
1968
Note:
The history of the road vehicle:
Fd W. Andersson, Visby-Snäckgårdsbaden, köpt av Havdhems Brandkår 1950

Inköpt av SSS augusti 1968 från herr Ingvar Hansson, Havdhem för 500: .
Bussen har tidigare benämts Gotlands Järnvägar nr 120, men det är mycket osannolikt att den ägts av Gotlands Järnvägar.
Transporterad till Högdalen oktober 1968 och till lada i Tobo november 1968.
Transporterad till Smedstorp 1976-11-06.