SL X1
AB Storstockholms Lokaltrafik class X1 no 3001-3104
"Pendeltåg"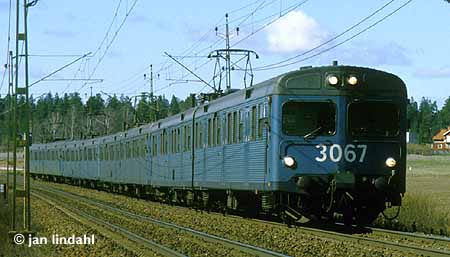 © Jan Lindahl
data for the class X1 "Pendeltåg"
Vehicle:
suburban train
Class:
Company:
AB Storstockholms Lokaltrafik (SL)
Town:
Stockholm
Class:
X1 "Pendeltåg"
Car number:
3001-3104
Built number:
104
Manufacturer:
ASEA 1967-1975
Staffing:
You must log in to see this field.
Gauage (mm):
1435
Length (mm):
49550
Width (mm):
Height (mm):
Weight (kg):
77400
Axel arrangement:
Bo'Bo'+2'2'
Wheelbase (mm):
2400+15800(x2)
Boggie center base (mm):
18200
Wheel diameter (mm):
920
Wheel tread width (mm):
Type of motor:
You must log in to see this field.
Motor power (kW):
1120
Type of controller:
Type of coupling:
Compressor:
Operating current:
Max speed (km/h):
120
Door arrangement:
Number of passengers:
196 seating + 100 standing = 296 passengers
Out of service:
2011
Note:
The history of the class (only in Swedish):
En X1-enhet består av två vagnar: en motorvagn X1-A och en manövervagn X1-B.

En X1-enhet består av två vagnar: en motorvagn X1-A och en manövervagn X1-B:

vagn
X1-A
X1-B
antal
104
104
leverantör
ASEA
ASEA
leverans år
1967-1975
axelföljd
Bo'Bo'
2'2'
motorantal
4
-
effekt (kW)
4x280
-
hastighet (km/h)
120
vikt (ton)
48,1
29,3
längd över koppel (m)
24,77
24,77
bredd (m)
höjd (m)
axelavstånd (m)
2,4+15,8
2,4+15,8
boggiecentrumavstånd (m)
18,2
18,2
hjuldiameter (mm)
920
920
antal passagerare
148
148
varav sittande
98
98
varav stående
50
50
Omkopplade och skrotningar:
Vid omkopplingar får hela motorvagnen alltid A-delens nummer
3003B skrotad 1983, 3003A omkopplad 1984 med fd 3059B
3009A omkopplad 1987 med fd 3041B, fd 3009B omkopplad 1987 med 3041A
3015A omkopplad 1987 med fd 3042B, fd 3015B omkopplad 1987 med 3042A
3016B skrotad 1978, 3016A omkopplad med fd 3080B
3022A skrotad (före 1971), fd 3022B omkopplad med 3058A
3025B skrotad 1983, 3025A omkopplad 1983 med fd 3052B
3028A+B skrotade 1978
3029A+B skrotade 1986
3033A+B skrotade 1970
3041A omkopplad 1987 med fd 3009B, fd 3041B omkopplad 1987 med 3009A
3042A omkopplad 1987 med fd 3015B, fd 3042B omkopplad 1987 med 3015A
3048A+B skrotade 1968
3052A skrotad 1983, fd 3052B omkopplad 1983 med 3025A
3058B skrotad (före 1971), 3058A omkopplad med fd 3022B
3059A skrotad 1973, fd 3059B omkopplad 1984 med 3003A
3063A skrotad 1977, 3063B avställd t.v.
3077A skrotad 1973, fd 3077B omkopplad 1978 med 3080A
3080A omkopplad 1978 med fd 3077B, fd 3080B omkopplad 1978 med 3016A
3091A skrotad 1982, fd 3091B omkopplad 1982 med 3102A
3102B skrotad 1982, 3102A omkopplad 1982 med fd 3091B