SL H24 5453
AB Storstockholms Lokaltrafik class H24 no 5453
"Capitol"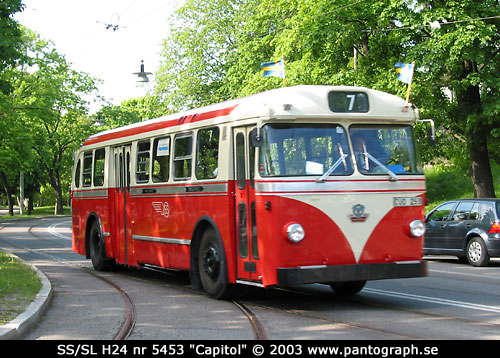 © Bruse LF Persson
data for road vehicle H24 5453 "Capitol"
Vehicle:
diesel bus
Manufacturer:
Scania-Vabis 1962
Staffing:
enmansbetjänad
Length (mm):
10485
Width (mm):
2500
Height (mm):
2945
Weight (kg):
8650
Wheelbase (mm):
6120
Tyre dimension:
front: , rear:
Type of motor:
Scania-Vabis D 10 R23
Motor power:
140 kW
Gearbox:
Chassis:
Scania-Vabis C 75/1-2.50
Chassis number:
540105
Coach:
Registration number:
CUO 253
First reg.number:
A75453
First reg.date:
1962-09-21
Max speed (km/h):
50
Door arrangement:
H1-002-0
Number of passengers:
seating: 38, standing: 30
Colour:
ljusröd, vit, grått tak
Last renevation:
You must log in to see this field.
Operation category:
You must log in to see this field.
Preservation category:
Owner:
SSS
Housed:
Stockholm
Museum year:
1989
Note:
fd SS litt H24 nr 5453
The history of the road vehicle:
Efter att ha tagits ur trafik på SL blev bussen ett övningsobjekt för en verkstadsskola 1978. Den såldes 1983 till några privatpersoner som hade för avsikt att bevara den i egen regi. Detta kom emellertid att ta för stora resurser i anspråk. Bussen skänktes därför till SSS 1989. I brist på bättre förvaringsplats stod den under många år utomhus på en industritomt på Färingsö.

I början av 1990-talet flyttades bussen till bättre förvaring, först vid Alkärrshallen på Djurgården, sedan inne i Brommahallen.

Bussen har under vintern 2001-2002 genomgått en renovering och är nu i driftdugligt skick.

Bussen är nu målad i SS färgschema trots att den är i högertrafikutförande. Detta är ett skick den aldrig haft tidigare. Den fick SL:s oxblodsröda färgsättning när den byggdes om för högertrafik. (Det har dock funnits en annan SS målad Capitol i högertrafikutförande på prov i mitten av 1960-talet.)

Donerad till SSS 1989 10 03 av Hans Råberg.
Körd till, och uppställd i, Alkärrshallen Djurgården 1992-10-31.
Uppställd i SL Brommahallen 1994 04 01.
Transporterad per bärgningsbil till Alkärrshallen, Djurgården 1999-10-13.
Besiktigad och godkänd 1984 05 29.
Utvändig upprustning och omlackering utförd 2000 – våren 2001.