GJK 265
Gustav Jansson no 265
"torped"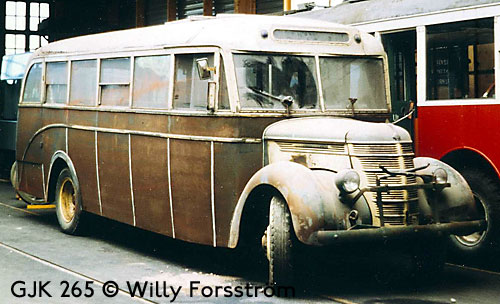 © Willy Forsström
data for road vehicle 265 "torped"
Vehicle:
gasoline bus, "torped"
Manufacturer:
International, ASJ 1938
Staffing:
enmansbetjänad
Length (mm):
8700
Width (mm):
2200
Height (mm):
2500
Weight (kg):
2580
Wheelbase (mm):
4850
Tyre dimension:
front: 7.00 x 20, rear: 7.00 x 20
Type of motor:
International HD 232
Motor power:
79 hk
Type of controller:
Type of coupling:
Gearbox:
Chassis:
International D 30
Chassis number:
726 R
Coach:
Registration number:
BFY 965
First reg.number:
R 265
First reg.date:
Max speed (km/h):
Door arrangement:
V 0-100-0
Number of passengers:
seating: 27, standing: 0
Colour:
grön
Last renevation:
1946
Operation category:
IV (requires a complete overhaul to become ready for operating use)
Preservation category:
1 (representanter för den svenska busshistorien och skall bevaras för framtiden)
Owner:
SSS
Housed:
Uppsala
Museum year:
1967
Note:
torped
The history of the road vehicle:
Inköpt av SSS september 1967 från Gustav Jansson, Korsberga för 100: .
Flyttad till Högdalen juni 1968, till verkstadsskolan i Hedemora för delrenovering oktober 1968.
Flyttad till Fräkentorp 1971 11 20.
Transporterad till Malmköping 1987 06 07, uppställd i Vagnorama. Transporterad till Uppsala 1987 10 05, uppställd vid Grindstugan, för revision.