Torrevieja är nog bland det absolut tråkigaste man kan råka ut för, och som järnvägsintresserad är det noll av värde. Ett traktortåg för turisterna med dragbil som ska se ut som ett ånglok gör ingen järnvägsdiggare på humör. Närhet till Alicante och Los Nietos, visst, men inte varje dag om man har krav på sig att vara social. Satt och bläddrade i en svensk turistguide från 2008 då hökögat fastnade på en karta med en järnväg inritad, just till Torrevieja. Måste utredas. Kastade mig i bilen och letade reda på stationen och banan ut från samhället. Stationen ligger bredvid väg 332 och banan har gått ut bredvid saltsjön sydväst om Torrevieja. Bilder nedan och under dem inklippt det jag kan hitta på nätet om den banan. Hittar ni nått mer så är ni välkomna med en kommentar. Jag har inte kunnat utröna om man hade hamnspår, men det var väl troligt. Nu går det ett transportband från saltsjön under delar av staden ut på en pir i hamnen. Om jag blir tvungen att återvända, vilket är troligt, så ska jag i brist på annat följa upp detta och kolla på stadens bibliotek efter gamla kartor.
Jag har fyllt i järnvägarna med vitt.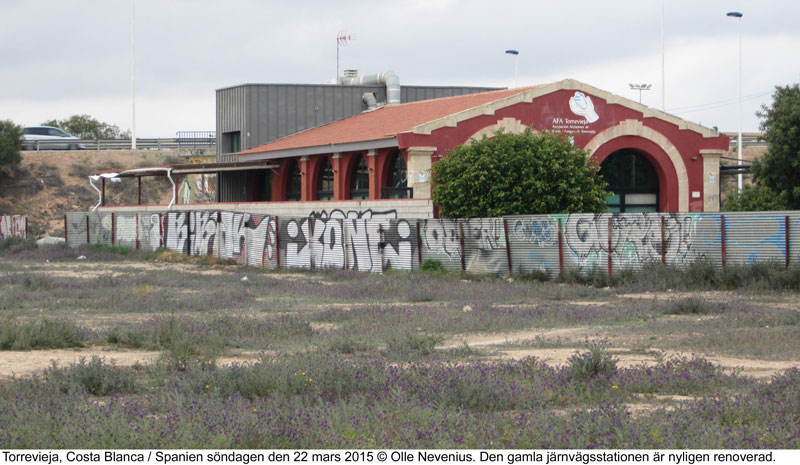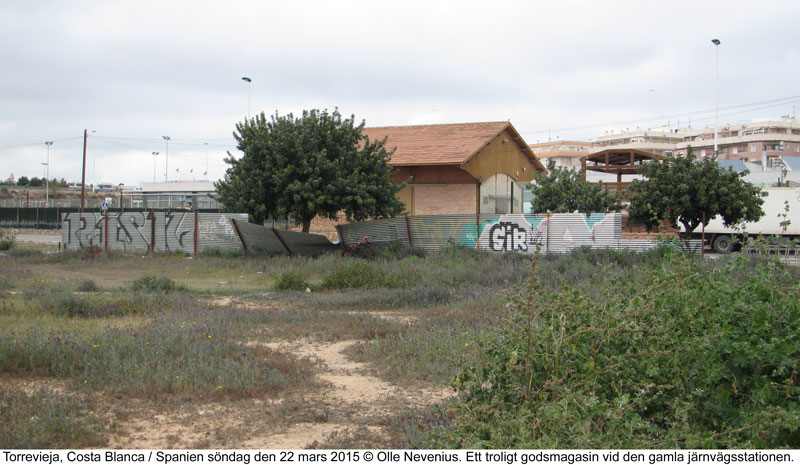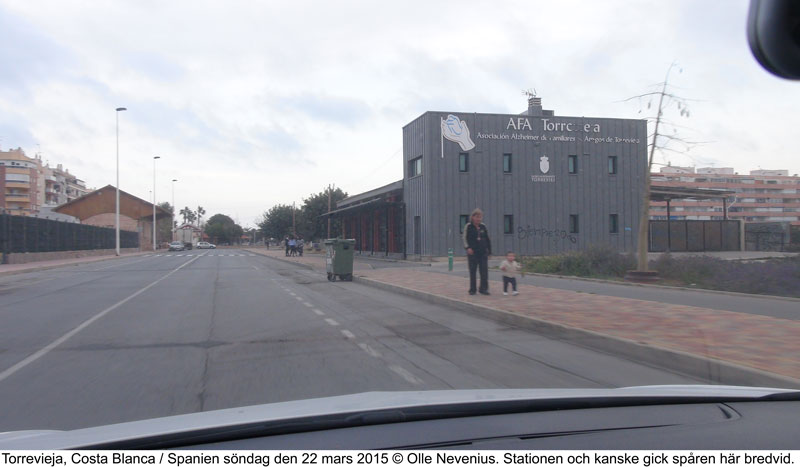 RAILWAY HISTORY
If Torrevieja has an emblem it is its salt flats. This historic cornucopia of abundance was
close to the route of a railway project granted to an exotically named (for these parts,
at least) railway company: the Compañía de los Ferrocarriles Andaluces (CFA or
Andalusia Railway Company). In 1882 this company was awarded the concession for a
railway that would link the cities of Alicante and Murcia with a view to operating a
future rail network that would run between Andalusia and Levante, a project that the
company was never able to realize. However, in the summer of 1884 the CFA was able
to open a line that initially ran parallel to the coast before gradually heading further
and further inland with the idea of reaching the city of Murcia. Some 25 km from the
station at Albatera were the rich salt flats of Torrevieja, an obvious destination for this
railway, and to this end a spur line was built. The line was so totally dedicated to the salt
industry that it never linked up with the port, but instead carried salt and agricultural
products to inland markets. Its beeline route seemed to avoid towns and villages, save
for the town of Torrevieja and its salt works.
Spur lines are notoriously difficult to operate profitably, and more so in the case of such
a short line. So when the railways started to feel the effects of the fierce competition
posed by road transport in the 60s, it was the death knell for this short line. Early in 1970
the line ceased carrying passengers and concentrated exclusively on the transport of
salt. It continued to operate in this way with irregular traffic until in the late 80s one of
the frequent floods of the river Segura destroyed part of the tracks. This effectively killed
off the line, although it was not officially closed until early 1988. Its rails lasted a few
years longer until the construction of the AP-7 motorway buried its remains and all that is
left today are the sections used by our Greenway running between the La Mata and
Torrevieja Lagoons and a few kilometres further inland on the way to Rojales.
Det ser ut som godsmagasinet i bakgrunden och då borde spåren ha gått dår gatan ligger idag, eller trottoaren kanske.
The old Railway Station
Several building used to form the old railway station that linked the inland towns with the coast. Today, that rail line no longer exists. Surrounding the restored station, there's a beautiful green area with fountain. Nearby there's another building that acted as a station long time ago but is today the "Ricardo Lafuente Aguado Habaneras Museum". And in an old ware-house, which has also been renovated we can visit the Salt Industry Centre. From this old complex that was part of the station is the starting point of the 6 kilometre-long green - route for pedestrians and cyclists, which uses the old rail line and that circles the Torrevieja lagoon. This lagoon is also known as the Pink Lagoon due to the colour of its waters.